PUBLICATION OF PRESENTATION GIVEN AT THE CONGRESS
Manuscripts of presented talks or posters from the Congress can be prepared for submission and publication in either Biologija or the Proceedings of the Latvian Academy of Sciences. You must submit the manuscript until April 30 by e-mail bgc@vdu.lt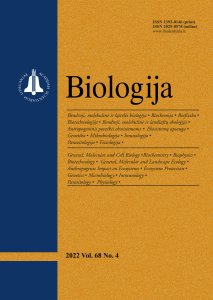 Biologija (ISSN 1392-0146 (Print); ISSN 2029-0578 (Online))
Biologija covers a broad spectrum and brings together various disciplines. Multidisciplinary approaches and the use of conventional and novel methods/methodologies (in the field and in the laboratory) are crucial for a deeper understand­ing of the effects of natural processes and human behavior/activities on the environment and the anthropogenic impact of economic development on ecosystems.
The journal covers the following topics: General, Molecular and Cell Biology / Biochemistry / Biophysics / Biotechnology / General, Molecular and Landscape Ecology / Anthropogenic Impact on Ecosystems / Ecosystem Protection / Genetics / Microbiology / Immunology / Parasitology / Physiology.
More information at: lmaleidykla.lt/ojs/index.php/biologija
Instructions for authors: lmaleidykla.lt/ojs/public/journals/2/Nurodymai_en.pdf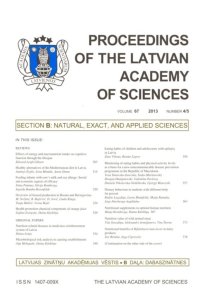 Proceedings of the Latvian Academy of Sciences (ISSN 1407-009X)
Proceedings of the Latvian Academy of Sciences is a peer-reviewed journal in English publishing papers that describe the results of original theoretical or experimental research of importance and interest to diverse groups of researchers, as well as reviews and short communications. The journal also publishes information on events pertaining to science life. Coverage includes: biological sciences, medical sciences, environmental sciences, geography, geology, forestry, agriculture, mathematics. Papers are published in the following series: Biological and Biomedical Sciences / Environmental Sciences, Geography, and Geology / Mathematics and Physics.
More information at: http://www.lasproceedings.lv/
Instructions for authors: http://www.lasproceedings.lv/en/for-authors-of-section-a/